Hello everyone,
yes, it's time again – here is the Brand New Downton Abbey DVD – Series 5!!!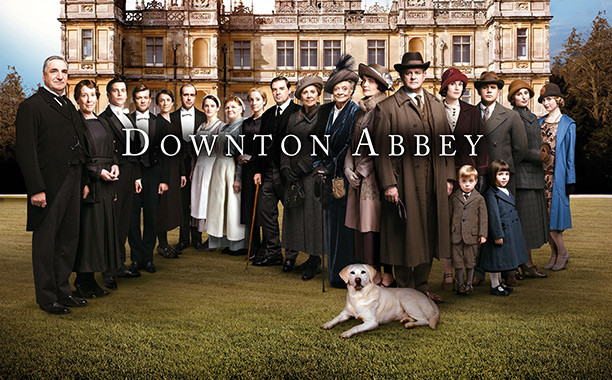 Upstair and downstair together for the picture (TV Fanatic)
Set in 1924, the fifth series sees the return of our much loved characters in the sumptuous setting of Downton Abbey. As they face new challenges, the Crawley family and the servants who work for them remain inseparably interlinked.
A new Labour government heralds changes that are being felt throughout the land, and life at Downton is not untouched. Robert, Mary and Branson together must navigate these shifting sands to ensure the future of the estate for generations to come.
As Branson finds himself playing a more crucial role at Downton than ever before, he can't help questioning his place in this world. Mary is finally coming to accept that she would like to marry again, but will she ever be able to find the same happiness that she had with Matthew?
Meanwhile with still no news of her beloved Gregson, Edith suffers under the burden of her terrible secret.


Tom, Anthony and Mary (TV Fanatic)
Downstairs, the servants are starting to consider what effect social changes may have on their working lives. While Daisy's mind is opened to new possibilities, Mrs Patmore views such new and uncertain paths with trepidation.
Anna and Bates have weathered many storms and are finally starting to plan their future. But with so much painful history, will they ever be able to completely move on, or will past secrets once again threaten their chance of ever finding happiness?
John and Anna Bates (TV Fanatic)
Includes exclusive clip from Downton Abbey 2014 Christmas special PLUS The Manners of Downton Downton Abbey an exclusive documentary featuring historian and Downton Abbey historical advisor Alastair Bruce as he guides us through the etiquette of how to eat, marry, behave, dress and make money in the 1920's.
What else can I say, except INDULGE!
Actually, I will say one more thing: please make sure you sign out properly when you take an item home with you. The blue Check-Out folder is always on the counter and it takes you 30 seconds to write down your name, the item you've chosen, and the date.
Please do this carefully, so we can keep track where the books and DVDs are.
Also, as a courtesy to others, make sure you return DVDs within 2 weeks so others can enjoy them too. Books you can keep up to 4-6 weeks.
All the best
Anna, your Librarian